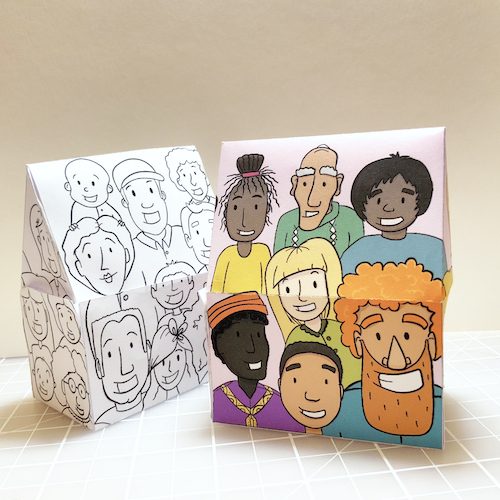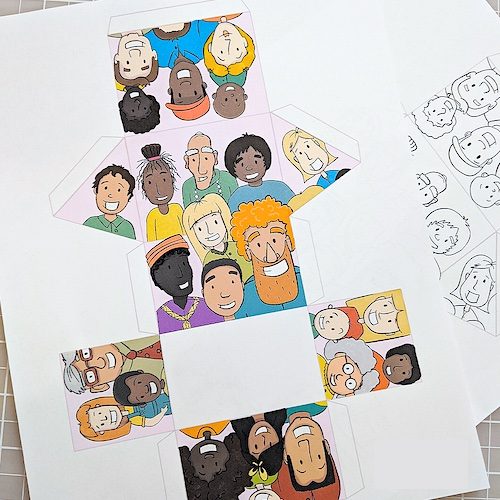 The first Christians gathered together in homes, the Waldensians lived and had church in caves! I'm sure you've had church on a beach, or under a tree somewhere. Church is where believers come together. 
This craft couldn't have come at a better time (COVID-19) where we can teach our children, church is not the building, but it's us! When we meet online, that IS church, because it's the followers of God coming together. 
Printer
Paper
Colouring Tools
Scissors
Scoring tool 
Glue
Colouring In
Cutting
Glueing 
Folding
Click the button below to download. If a download window does not open, please check your download folder for the file.
Colour in with pencils (inky pens can weaken the paper unless you have a thick stock).
Score the fold lines before cutting.
Cut.
Fold creases.
Glue. Starting with the rectangular prism base. Then form the triangular prism roof. Attach these two together with the flap – it's a little tricky, insert something thin like a skewer to push the two pieces of paper together. Using regular paper glue this only takes a few seconds to bond. 
---
** HIGHLY RECOMMEND THIS PAPER from Amazon** which I use for ALL my crafts because it's a bit thicker than ordinary printer paper and prints brilliantly!!!
** This is an affiliate link, which means if you make a purchase, I'll receive a tiny portion of the sale (this does not increase the price for you!).