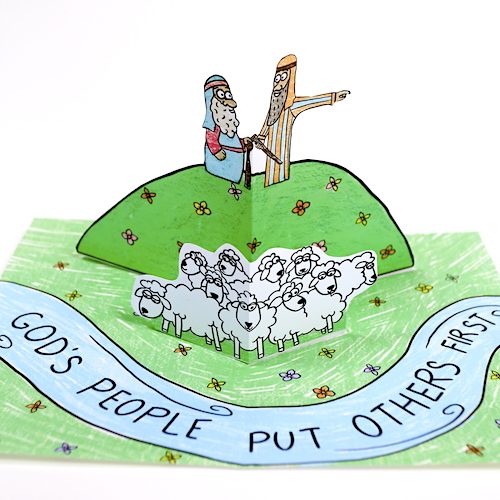 Instead of choosing the best for himself, Abram let Lot choose first.
This story can be used to show children that God's ways are not the world's way and to put others first.
Printer
Paper
Colouring Tools
Scissors
Glue or double-sided tape
Colouring In
Cutting
Folding
Glueing
Click the button below to download. If a download window does not open, please check your download folder for the file.
Colour and cut.
Mountain fold the pieces with the sheep and men.
Valley fold the main bottom sheet.
Fold tabs on popup pieces backwards.
To make the card.

Put glue or double-sided tape on the right tabs only. Align to markers on base and stick.
When attached to the card, fold both popup pieces forwards and flat with tabs facing up. Apply adhesive to tabs and fold card over to popup pieces. The popup tabs will stick to the other side of the card – his will allow the popup pieces to find their natural alignment which will make for a much better fold!
---
** HIGHLY RECOMMEND THIS PAPER from Amazon** which I use for ALL my crafts because it's a bit thicker than ordinary printer paper and prints brilliantly!!!
** This is an affiliate link, which means if you make a purchase, I'll receive a tiny portion of the sale (this does not increase the price for you!).