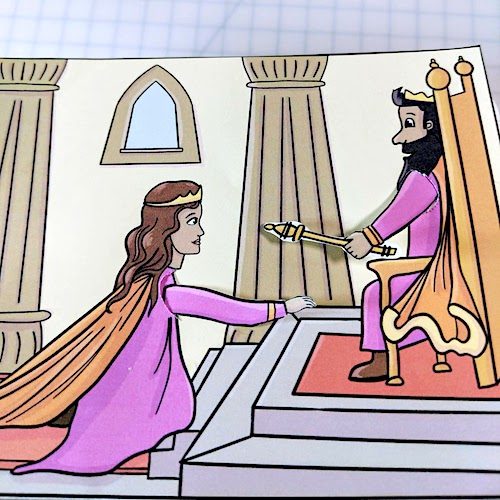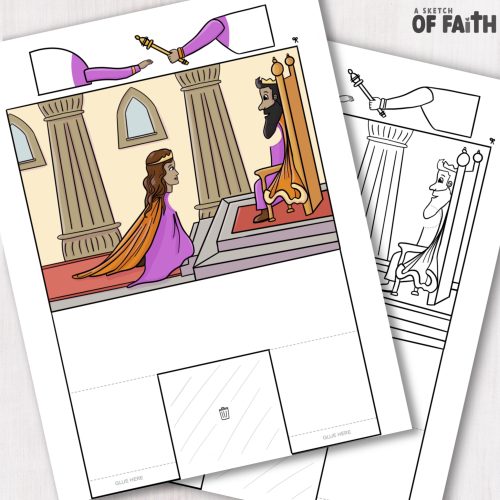 The children in our care are more likely going to need to be courageous than they are going to be brave. My mind turns to prophecies in the Bible I can see being played out every single day and I ask myself, "How close are we to the end? How courageous do my children need to be?" 
This story shows Esther being courageous, not brave. She was scared, but in spite of her fears, she did the right thing. Let's use this story to teach the importance of being courageous. 
Printer
Paper
Colouring Tools
Scissors
Glue
Colouring In
Cutting
Gluing
Click the button below to download. If a download window does not open, please check your download folder for the file.
Teachers Tips:
Make this craft before your lesson to show your children how it is meant to look. 
Pre-cut (with a craft knife) the slits where the arms come through! 
Instructions:
Colour and cut out all pieces. 
Fold along the bottom of the picture and fold lines to make a triangle at the back so the picture can stand up and glue to back. (See photo above)
Slide arms through the slots and play out the story.
---
** HIGHLY RECOMMEND THIS PAPER from Amazon** which I use for ALL my crafts because it's a bit thicker than ordinary printer paper and prints brilliantly!!!
** This is an affiliate link, which means if you make a purchase, I'll receive a tiny portion of the sale (this does not increase the price for you!).