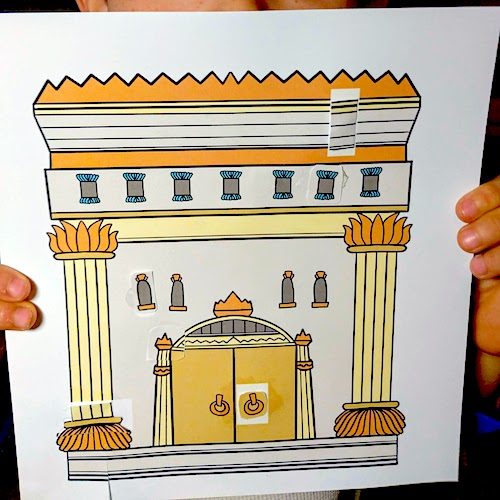 If you wanted to raise $20, to ask 1 child for $20 is a lot! But, what if 20 children gave $1 each? Or, ask a child to lift a table right off the floor. They probably can't, but many children could (please use discretion if doing this example in real life!). If there's a mess on the ground, or it's time to clean up after craft, point out how much quicker it is when they all work together. 
Printer
Paper
Colouring Tools
Scissors
Glue
Colouring In
Cutting
Gluing
Click the button below to download. If a download window does not open, please check your download folder for the file.
Tell your children know they are going to help rebuild the temple!
Colour in, cut out bottom shapes and glue them to the temple in the right place to help rebuild it!
---
** HIGHLY RECOMMEND THIS PAPER from Amazon** which I use for ALL my crafts because it's a bit thicker than ordinary printer paper and prints brilliantly!!!
** This is an affiliate link, which means if you make a purchase, I'll receive a tiny portion of the sale (this does not increase the price for you!).