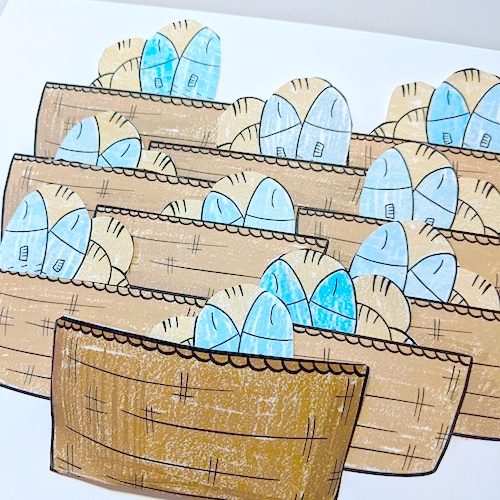 There was one boy willing to share what little he had. It didn't seem like much, and two fish, and 5 loaves of bread, certainly didn't seem adequate to anyone there to feed anymore than a few people – except Jesus saw things differently. 
He knew the divine could reach down and make the impossible possible. Jesus gave thanks for the food, and the miracle happened. We can talk to our children about what a miracle is, how miracles can happen today, the willingness of the young boy to share his food, and to stop and see the problems we have as Jesus would see them.
Printer
Paper
Colouring Tools
Scissors
Craft Knife 
Glue
Click the button below to download. If a download window does not open, please check your download folder for the file.
Print & colour in. 
Cut out fish and single basket.
Using a craft knife and mat, cut a slot at the top of each basket. 
Score and fold along tabs on basket sides, and curved line on basket base. 
Decide where to glue your 3D basket, somewhere in the middle down the bottle. 
Make sure you have shaped the basket before gluing. 
Glue one tab first, then curve the bottom flap up and glue, then glue the second side tab. 
Your child can role play putting the fish and loaves in the extra baskets. 
Done! 
---
** HIGHLY RECOMMEND THIS PAPER from Amazon** which I use for ALL my crafts because it's a bit thicker than ordinary printer paper and prints brilliantly!!!
** This is an affiliate link, which means if you make a purchase, I'll receive a tiny portion of the sale (this does not increase the price for you!).