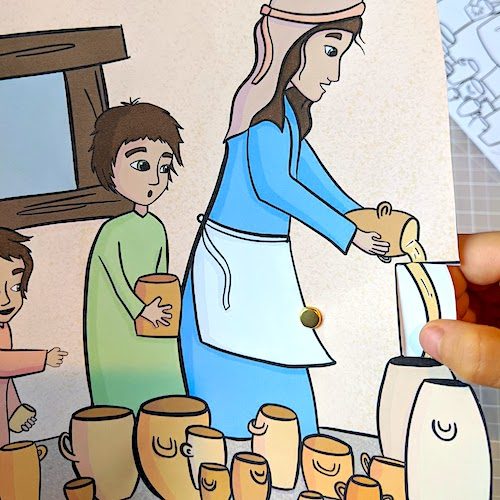 This women went through nightmare after nightmare, and then…
She was told by prophet Elisha to do something that didn't make any sense. The outcome, good or bad would be dependant on her obedience to his instructions. 
Ask your children what would have happened if she collected only a few jars from her neighbors. Then, talk to them about how she acted with obedience and faith collecting enough jars to FILL her house! Ask you children, if they were one of her sons, how they would feel witnessing this miracle!
Printer
Paper
Colouring Tools
Scissors
Paper fastener / brad
Colouring In
Cutting
Role Playing
Click the button below to download. If a download window does not open, please check your download folder for the file.
Colour and cut out craft.
Insert brad. (Brads on Amazon)
Spin circle for never-ending oil.
---
** HIGHLY RECOMMEND THIS PAPER from Amazon** which I use for ALL my crafts because it's a bit thicker than ordinary printer paper and prints brilliantly!!!
** This is an affiliate link, which means if you make a purchase, I'll receive a tiny portion of the sale (this does not increase the price for you!).