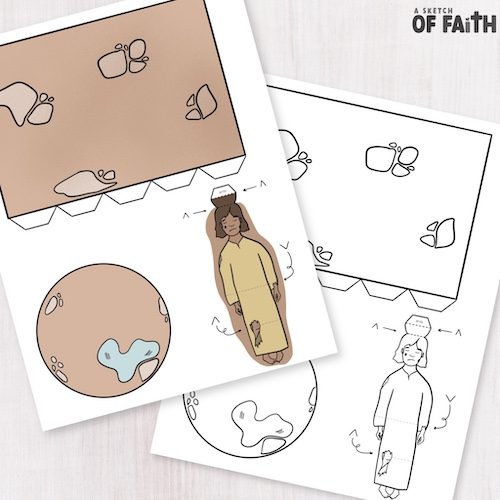 God didn't remove any pain or sadness, but God can give strength when going through tough times. Use this story to talk to children about tough times, and in those tough times how we can trust in God because God knows the future. If we trust in God, we need to trust that He has a good plan for our lives because that is what He has promised. 
Printer
Paper
Colouring Tools
Scissors
Tape 
Colouring In
Cutting
Glueing
 
Click the button below to download. If a download window does not open, please check your download folder for the file.
Please view entire PDF before printing and select correct pages to print.
Print, colour and cut out.
Pre-fold flaps on the wall forward, glue flaps and place circle on top.
Fold Jospeh and glue flap to wall.
---
** HIGHLY RECOMMEND THIS PAPER from Amazon** which I use for ALL my crafts because it's a bit thicker than ordinary printer paper and prints brilliantly!!!
** This is an affiliate link, which means if you make a purchase, I'll receive a tiny portion of the sale (this does not increase the price for you!).